Connecticut Paid Family Medical Leave Act Seminar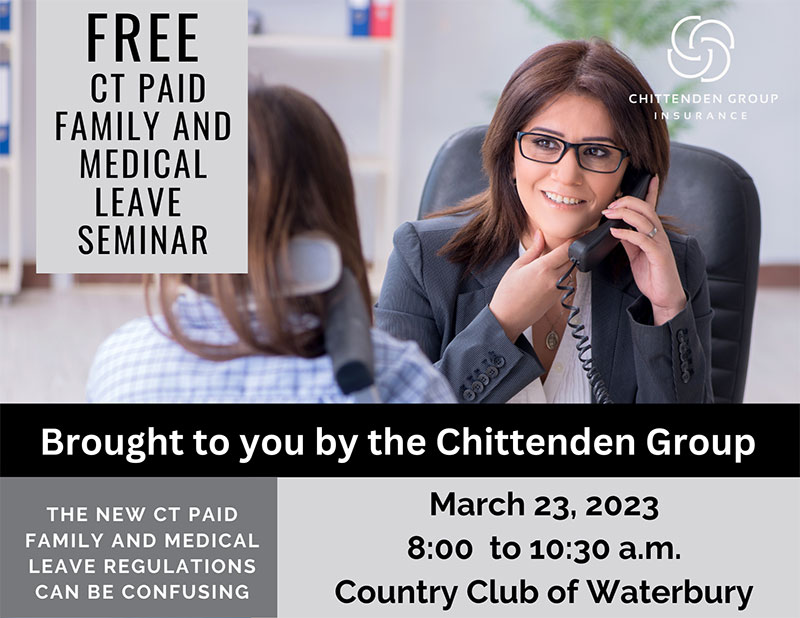 March 23, 2023
8:00 am to 10:30 am

The Country Club of Waterbury
Country Club Road, Waterbury, CT

A FREE full breakfast will be served
Pre-registration is required
The Chittenden Group is offering a FREE seminar on CT Paid Family Medical Leave Act Compliance. This seminar is being held to address the Connecticut law and its federal counterpart. Lead by experts in CT labor law this seminar will offer information on CT PFMLA, FMLA, tracking, filing, qualifying events, the laws impact on other HR policies, PLUS many other topics including:
Impacts of CTPL on Time and Attendance Practices
Tips and Tricks for Managing Leaves in a Post CTPL World
Policies and Alignment Challenges Related to CTPL
Working with Employees Who Are Seeking CTPL Benefits
CT PFMLA vs. FMLA
Qualifying Events
Other Policies Impacted
Forms and Filings
Thomas Parisot
Secor, Cassidy & McPartland, PC

Attorney Parisot grew up in the Bunker Hill section of Waterbury and currently resides in Watertown.  Attorney Parisot's law practice focuses on commercial and civil litigation as well as labor and employment counseling and litigation.  In addition to Connecticut courts, Attorney Parisot has represented clients before the courts in Texas and Illinois. Attorney Parisot represents clients before municipal and other governmental boards and commissions.   Tom Parisot has been a presenter for numerous seminars and lectures regarding legal matters, including workers' compensation and employment law, for the Waterbury Bar Association, the Connecticut Conference of Municipalities, the National Business Institute and the Connecticut Association of Municipal Attorneys. He served as Assistant Corporation Counsel to the City of Waterbury from 1981–1984 before joining the Firm.
Allison Ebner,
Vice President, Membership & Partnerships
Employers Association of the NorthEast

Allison has a passion for helping organizations create powerful people processes! She has enjoyed working in roles that encompass HR, recruitment and corporate branding including talent acquisition, workforce planning, employee engagement and labor trends and compliance. In her present role, she is the Vice President of Membership & Partnerships for The Employers Association of the NorthEast, where she is responsible for leading the engagement team that meets regularly with members to deliver best practices around compliance, employee relations and effective employee engagement strategies. Allison is a current Board Member and Past President of the Human Resource Management Association of Western New England, a Board Member and Communications Director for the Massachusetts State Council of SHRM, a Vice President of the Board for the Mason Wright Foundation, President of the Board for MassHire Springfield and the incoming Chair of the Springfield Regional Chamber's Legislative Steering Committee. She is a graduate of Ithaca College in New York where she received a Bachelor of Science Degree in Marketing and recently completed the Mini MBA Management Program with Bentley University.
Mark R. Adams
IOM, SPHR, SHRM-SCP Director of Compliance
Employers Association of the Northeast, Inc. 
Mark co-leads EANE's HR Services team, providing services to member companies and directing programs for affirmative action, background checking, and data surveys.
A frequent writer and speaker throughout the region, Mark guides management-level and C-suite professionals on topical issues ranging from drug testing to FMLA to employee vs. independent contractor laws. He is the primary editor and author of EANE's e-alerts, keeping members in-the-know about pending legal and regulatory developments critical to the workplace.
Mark is a graduate of The Catholic University of America in Washington, D.C. and the Western New England College School of Law where he obtained his Juris Doctor in 1992.
Complete the form below to register.